THREE UNIQUE, ONE-ON-ONE PROGRAMS TO EVOLVE YOUR LIFE – PERSONAlLY, SPIRITUALLY, PHYSICALLY & PROFESSIONALLY, THROUGH the powerful and NURTURING ENERGY OF THE FEMININE.
I am an intimacy, sex and empowerment coach, providing practices and tools for a better sex life, integrated body and mind, and a deeper sense of purpose.
With over 15 years of intensive training through different embodiment techniques, healing modalities and personal development work, I have designed programs and frame works to liberate the wild-pleasure inside you. After developing my own movement technique, the Meta Method, graduating from The Art of Leadership Mastery, and The Tantric Institute of Integrated Sexuality, I've developed insights into the deeper undertones of energetics at play in all of our lives. Through the discipline of my body and mind, and the devotion I have to the urgency of this work, I am ready to share what I've learned over the years with fierceness, fearlessness, and love.
During our time together, you'll develop better skills in the sheets, live in a body you trust, and live a life you love.
Whether you're looking for intimacy, accountability, or structure, this work invokes clarity on your vision and purpose, drawing out everything you desire, and to "go fucking get it!"
My proven methods which bring together critical elements of mind, body, and nature, will inspire you to face challenges as a dancer, moving to new rhythms with ease, skill, and perspective.
These tools, rituals and practices, are offered at a minimum of 6 week private one-on-one sessions in person or on calls.
A DEEP DIVE TO YOUR META STATE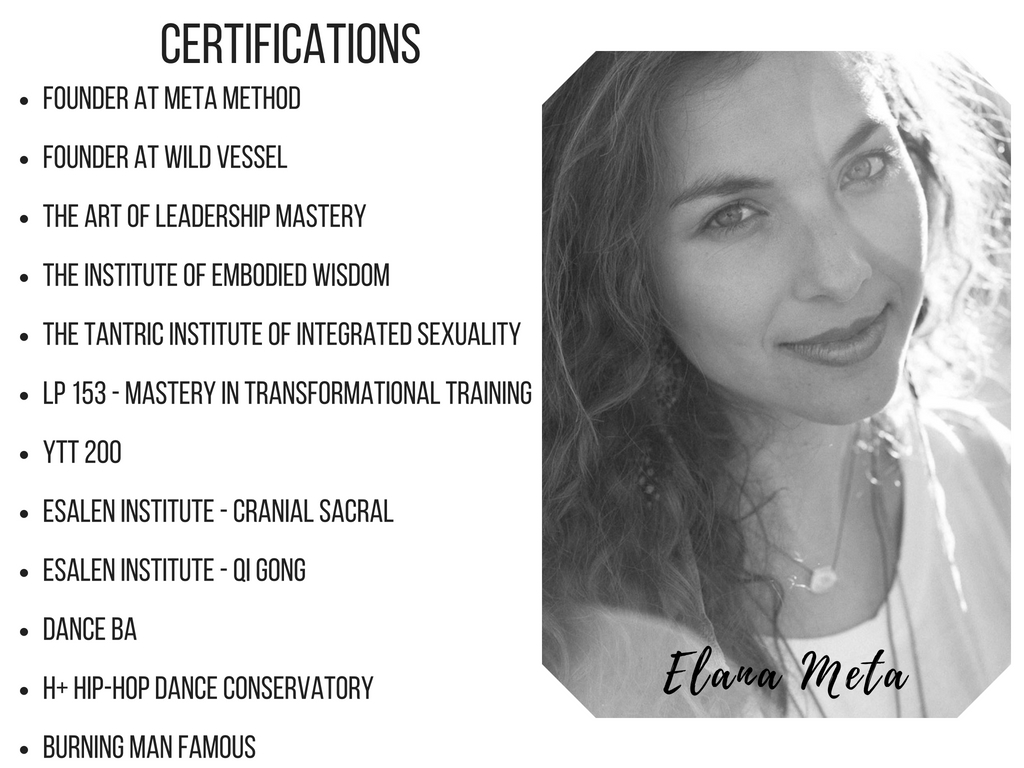 1. PERSONAL DEVELOPEMENT - LIFE SHIFTS
2. SEX AND EMPOWERMENT COACHING (SINGLES AND COUPLES)
3. META METHOD - EMBODIMENT PRACTICE
(All programs can be designed and curated specifically for each individual.)
"I am ready to commit myself to the practices that will put me on the path to achieve all my dreams."
If there's a person inside you who isn't fully expressed, there is so much more for you. You give so much to your team, to your family, and to your friends, but where is the space for you? it's not sustainable to give to others if you don't give to yourself first.
Put your intentions to practice
Trust the process
Create your dreams
Allow it to happen
Integrate your wholeness and embrace all sides of you.